What We Do
Backup Recovery
Business backup recovery keeps your business moving forward.
Sudden IT events are unavoidable, but it is possible to mitigate the risk of loss due to an unexpected IT event with a comprehensive business backup recovery plan. Byte Balance IT makes it possible for you to barely miss a beat when an IT disaster strikes.
There are only so many hours in a day. When you own a business, every minute is accounted for before the day even begins. You don't have a second to spare – and certainly not to sudden IT events.
The best way to respond to an IT disaster is by planning for it. Business backup recovery services are proactive measures used to prepare in advance so that an unexpected IT situation doesn't become a catastrophe.
Let's Get Started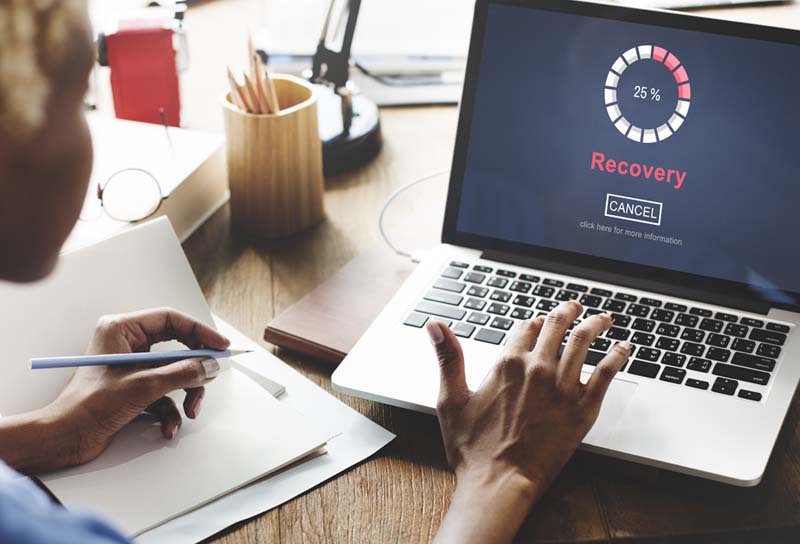 Life Happens to Your Business Technology
Just like you can't prevent every unexpected event in your life, you can't prepare for every little thing that can cause interruption to your business systems. However, you can prepare to put the pieces back together when the unexpected does happen. Byte Balance IT's business backup recovery services stand at the ready to restore your data when the unexpected happens.
Storing your data locally and hoping nothing catastrophic will ever happen is one way to approach your valuable business data – but it's not the best one. Life happens to your technology, and that can come in a variety of different forms.
10 Reasons your business may need to recover your data:
Power surges
Ransomware infections
Viruses
Age of equipment
Human error
Spills (coffee anyone?)
Extreme heat or cold
Natural disasters
Electrical failures
Theft
The list goes on and on. You may not be able to protect your data from everything that can happen to it, but you can make sure you have a way to retrieve it when life does happen.
We take a customized approach to your unique business backup recovery needs.
Your business is unique, and so are its business backup recovery needs. We pride ourselves on being the link between humans and technology because it's never really about the technology. It's about what technology does for people. People are at the center of everything we do.
We'll take the time to learn about you and your business. Then, we'll develop a customized business continuity plan for your data, test that plan, and be prepared to execute quickly and efficiently to ensure your business is minimally impacted.
Just like you can't plan for every eventuality, we know we can't either. However, we are confident that we have the technical know-how and problem-solving skills to be ready to respond to whatever may happen to your business data.
Consider us your personal geeks with people skills. You can rest assured that not only will we ensure your Atlanta business data is quickly recoverable, but we'll also have fun doing it. Contact Byte Balance IT today to experience a different kind of IT company.
Contact the geeks with people skills at Byte Balance IT.
Trust us for all your computer, IT, server, and security needs. We bring the human element to your business computer support.